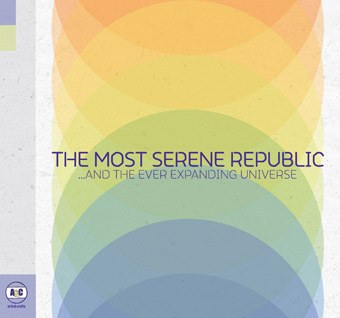 The Most Serene Republic
sacan la cabeza entre una superpoblada escena indie folk experimental floreciente esta última decada con una propuesta que revisa y actualiza su peculiar manera de entender este género mixto en el que casi todo vale, y en el que cada vez es más difícil (o más fácil, quien sabe) tener una firma propia y proponer sonidos estimulantes a los también más numerosos oyentes.
Esta nueva entrega de los republicanos tiene de todo: una pequeña intro casi simfónica en el primer corte
Bubble Reputation
, una pista con los ritmos electrónicos más básicos en
Heavens To Purgatory
o un precioso tema instrumental (
Patternicity
). Destaca esta vez más que en otros discos el deseo de la banda de hacer su música un poco más accesible dentro de su micromundo, con letras que no tienen desperdicio -
I dreamt late last the night, I was schizophrenic.
Then waking I found that to be 80% true
-, a veces autobiográficas, a veces grandilocuentes.
El piano también gana enteros en este trabajo, así como unas orquestaciones más elaboradas y presentes. Esto lo apunto porque parecía en su anterior trabajo
Underwater Cinematographer
se habían dejado más a la experimentación e improvisación. Las piezas en este puzzle musical acaban siendo más compactas, más parecidas al concepto pop más clásico, y aunque tampoco hay mucho estribillo, los temas acaban por no sonar -tan- complejos. Es un meditado equilibrio, al fin y al cabo, de muchas influencias e ideas, que es lo que me acabó por atrapar de esta banda.
Se puede escuchar el disco entero en streaming en su web (
link
), así como casi todos sus otros trabajos anteriores,
The Most Serene Republic
es una banda muy prolífica.